Vanda, chamber opera for mezzo-soprano, viola da gamba and electronics
Libretto by Jean-Pierre Siméon
For this score, Lionel worked on the concept of a profound intimacy within the music. He combines the baroque vocality of the viola da gamba to the contemporary music sound materials and the pulse of the amplified music to the powerfull emotion that emerges from the lyrical voice.
In his text, Jean-Pierre Siméon reveals a poignant story of an exiled woman (from the Balkans) who recounts to her baby the stories of her life, origins and parents, of the love, the war, the violence…
A profound text which portrays the life of an exiled woman, her struggles and her every day humiliations.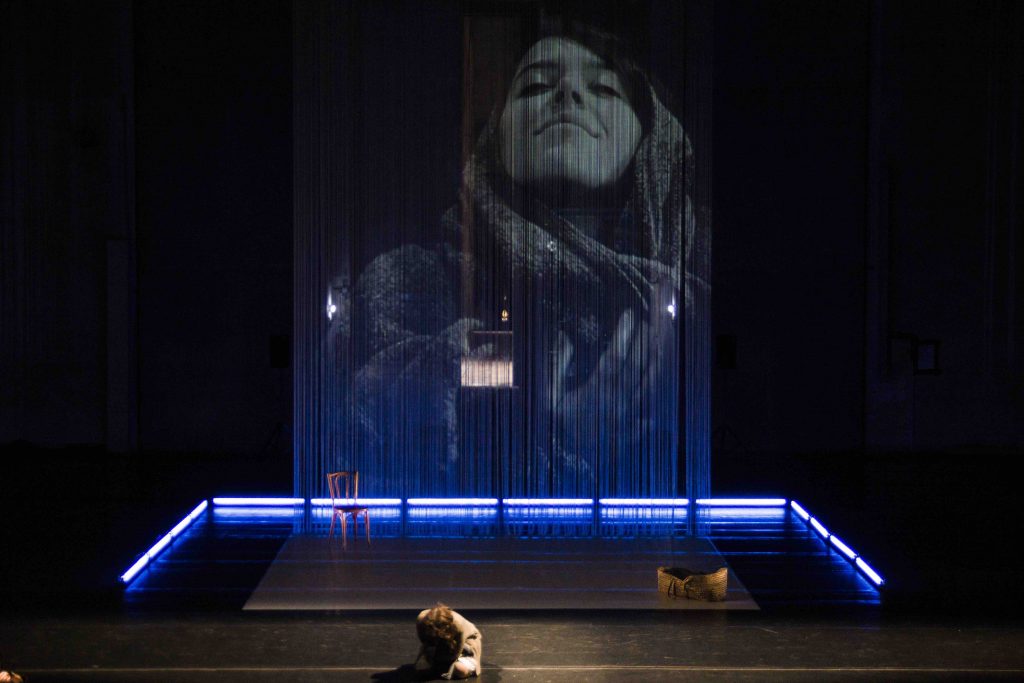 copyright Jimmy Vallentin
Vanda, opens spectacularly the new season of Contemporary Mornings at the Reims Opera House (Dominique Bunel)
---
Press quote
« Wrenchingly emotional … the composer Lionel Ginoux leads us to present his last chamber opera, Vanda, with the sound of the viola da gamba of Marie-Suzanne de Loye, the voice of mezzo-soprano of Ambroisine Bré and its own beaches of electronic music. Adapted from a play by Jean-Pierre Simeon, Vanda tells the life sacked of a woman in the war, ready to abandon her baby. The chamber opera created at the Reims Opera House in a staging of Nadine Duffaut opens spectacularly the new season of Contemporary Mornings in partnership with Césaré.
Dominique Bunel – Mag'Opéra #7
instrumentation
1 mezzo-soprano
1 viola da gamba
electronics

details
duration 65′
first performance 6 november 2016, Reims Opera house
Jean-Pierre Siméon, author
Ambroisine Bré, mezzo-soprano
Marie-Suzane de Loye, viola da gamba
Nadine Duffaut, staging
Philippe Grosperrin, lighting
Emmanuelle Favre, scenary
Danièle Barraud, costumes
Arthur Colignon, video
commissioned by Act'tempo
video
Captation during the premiere at the Reims Opera House , 5 november 2016
Performance
musical residency
Abbaye Royale de Fontevraud from 23 to 28 november 2015
Simona Caressa, mezzo-soprano
Marie-Suzanne de Loye, viola da gamba
staging residency
Reims Opera house from 1 to 6 november 2016
Ambroisine Bré, mezzo-soprano
Marie-Suzanne de Loye, viola da gamba
Nadine Duffaut, staging
Philippe Grosperrin, lighting
Emmanuelle Favre, scenary
Danièle Barraud, costumes
Arthur Colignon, video
next performance
19 may 2017, Abbaye de Fontevraud [concert version]
Ambroisine Bré, mezzo-soprano
Marie-Suzane de Loye, viola da gamba
6&7 april 2018, Avignon Opera House
Ambroisine Bré, mezzo-soprano
Marie-Suzanne de Loye, viola da gamba
Nadine Duffaut, staging
Philippe Grosperrin, lighting
Emmanuelle Favre, scenary
Danièle Barraud, costumes
Arthur Colignon, video