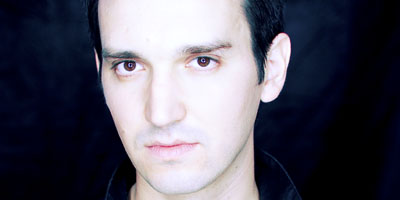 Lionel Ginoux studied the visual arts (film, audiovisual, sound engineer) before devoting himself to writing music in forming alongside Régis Campo, Barnabé Janin, David Owen, Roger Cawkwell, Georges Boeuf… He writes lyrical and sensitive music, with a strong preoccupation on rythm and musical intensity. His compositions follow the contemporary music of the twentieth century, without disowning the vocality and the classical harmony. By his musical curiosity, his music is being inspired too by jazz and popular music. He writes mainly for symphony orchestra, choir, opera, chamber music and soloists.
His music is played in France (Festival de Radio France, Opéra de Marseille, Opéra d'Avignon, Festival Les Musiques, Opéra de Limoges) and also abroad (Festival Gaudeamus Music Week – Hollande, International Saxophone Symposium – Etats Unis, Instituts français of Valencia – Spain).
In 2012, Lionel Ginoux is laureate of the SACD Beaumarchais for his chamber opera, Medea Kali, created in may 15th 2013 at the Festival Les Musiques (Marseille).
He is also laureate in 2015 of the Marcelle and Robert de Lacour's Fondation for a new work, the Diptyque entourant la caresse for harpsichord and instrumental ensemble (in relation to the concerto by Manuel de Falla), a score that will be created by the Stravinsky's Ensemble (conducted by Jean-Pierre Pinet) at the Arsenal de Metz the 29th november 2017.
Lionel Ginoux has repeatedly been in residence at the Chartreuse de Villeneuve-lez-Avignon for Preface en Prose in 2009 and in 2012 for Medea Kali, a chamber opera on Laurent Gaudé's libretto. The Abbaye de Fontevraud host him in residence for his next chamber opera, Vanda, on Jean-Pierre Siméon's libretto which Will be world premiered the 6 november 2016 at the Reims Opera House.
In March 23rd 2014, his concerto for violin, Les Indociles, has been created by Nemanja Radulovic with the Marseille Philharmonic Orchestra, directed by Eun Sun Kim.
His first Symphony, Dualités inspired by the Sidi Larbi Cherkaoui's choreography, has been created the 15th January 2016 by the Avignon Symphony Orchestra conducted by Samuel Jean.