Medea Kali,
chamber opera
Libretto by Laurent Gaudé
Opera laureate from the Beaumarchais-SACD
Medea killed her children. Now time has passed and the knowledge that her sons are resting in Greek soil becomes too much for her. She travels back to her children's tomb to remove them from their resting place and bury them next to the Ganges. She wants her revenge to be complete. However, Medea is followed by a man she doesn't know. She likes his presence. She feels that she will soon be at his mercy, as he is handsome and Medea has never been able to resist male beauty. (Actes Sud)
Medea Kali is an opera for one single voice. I was seduced by Laurent Gaudé's writing; a strong, sober style with punchy words and rhythms. In choosing this text I wanted to explore the dramatic art of a monodrama. I had to explore and develop a vocal composition for a solo singer by combining different types of writing in order to find a variety of sounds to revive speech and maintain the audience's attention throughout the work. The character of Medea inspired these vocal tracks. Medea is multiple and complex. With each scene we discover a different 'facet' of Medea. Each scene has its own vocal processing.
Medea Kali is a terrible story, black and intense. It is a woman's cold-blooded recital of her life, her betrayal and her revenge. Throughout the eight scenes, Medea Kali's character unveils itself. We discover both a loving, passionate, devoted woman, yet also a seductive Medea, blinded by the beauty of men. We also find a hurt, humiliated woman filled with an excessive determination. There are images of excruciating violence. The text is bordering on pornographic in its depiction of sexuality and orgy.  The text is almost unbearable when Laurent Gaudé refers to the murder of Medea's children. I see in it a cathartic purging of our world and certain excerpts are a catharsis of our own violence. I wanted these extreme, violent feelings to be reflected in my music. This creates music filled with contrast: brutality, savagery, madness, sensuality but also serenity and relief which led me to a rich palette of sounds. We have complex harmonies, denses with sudden rhythms as well as uncluttered, smooth 'readable' melodies. Often I voluntarily break away from the direction of the dramatic art. I take the opposing musical direction to the blackness of the text.
In my compositions, I pay great attention to combining the erudite and the popular in my musical creations. I develop a space where modernity and tradition co-exist. It is a musical space and a rhythmic and poetic moment filled with intensity, contrasts and lyricism.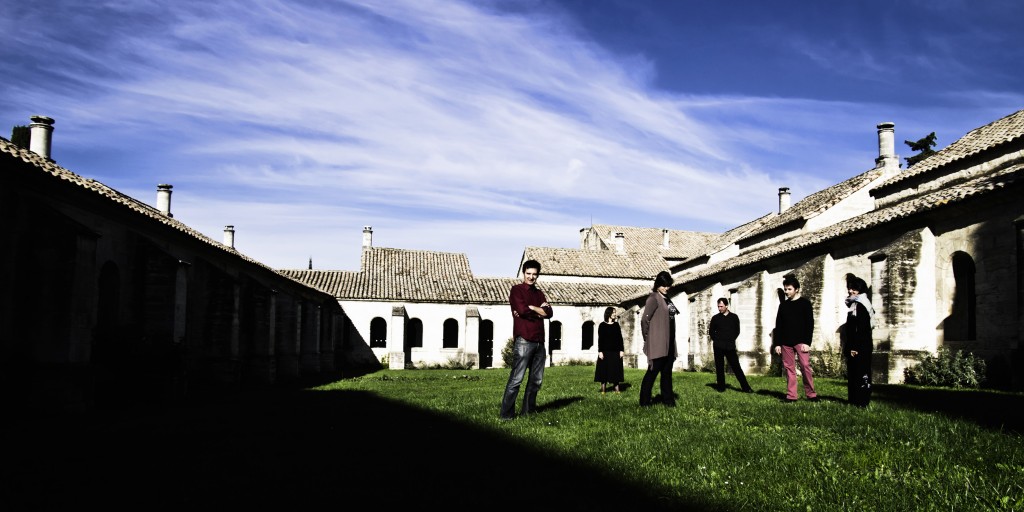 copyright Jimmy Vallentin
A remarkable musical creation
This ambitious work of a young composer still honors the musical creativity bubbling (Benito Pelegrin)
---
press quote
Virée macabre – Zibeline – May 2013
The last event of the Musiques du Gmem Festival (associated with Musiques en chantier) proposed the premiere of a chamber opera by the composer Lionel Ginoux : a mysterious Medea Kali, inspired by the play by Laurent Gaudé, and develops the myth of the murderous antique, infanticide and magic betrayed by Jason.
On May 15th at the ABD Gaston Defferre, we follow a tragic monologue, powerfully served by the soprano Bénédicte Roussenq, with a tense, challenging score reminiscent of Schoenberg (Erwartung) or Strauss (Elektra). An instrumental quartet (Joël Versavaud on saxophones, Adeline Lecce on cello, Marion Liotard on piano and Laurent Camatte on viola) supports the fury of the heroine in an orgiastic scene … as in the static wait … underlines the statuary desolation of the tomb, the sensuality of the lover or the sharp coldness of a scene of crime, when his sons agonize in his murderous arms … To this powerful, tragic bill, are aggregated "sounds fixed on tape" The waters of the Ganges from which this reinvented Medea would emerge, the fire of the stake, so many elements (purifiers?) to which is added the cold earth, from which the mother exhumed her deceased children and of which one hears the voices, ghostly, "out-of-field" …
Like the mysterious man who spins the heroine in the sung story, we follow the footsteps of this Medea during her journey with an exciting, disturbing, cyclical narrative: India to Greece, panting, sanguinary, to the rhythm of a mixed alternation (vocal & instrumental, electronic & recited) to the doors of madness, in the intimacy of his inner voice, indecipherable, fantasies, macabre…
Jacques Freschel
Les Chroniques de Benito Pelegrin – june 2013
One hour and a quarter long, Medal Kali is presented as "a chamber opera" for soprano, saxophone, viola, cello, piano and sounds set on magnetic tape. Recorded sounds, noises, spoken monologues, brief dialogues of children, cause a skilful mixture of movements of auditory attention through the diversification of sound sources, but without any solution of continuity, in a continuously dominated flow. But with only one character, the children being confined to a recording of a few sentences on tape, with no real dramatic action, which requires exposure, a knot of intrigue, adventures and denouement, more than the announced chamber opera, is a great cantata or a modern lyrical scene like Schönberg's Erwartung monodrama for soprano, but twice long, or, sometimes, this french declamation recalls the Satie of the Death of Socrates, without being able to assign landmarks Stylistics to this personal work.
On this long text, Ginoux has built a large partition tailored to the great golden voice, to the fruity and felted medium of Bénédicte Roussenq, radiant soprano, bursting in full highs, large volume, long, even range. However, the composer does not grant any facility to his interpreter: medium very solicited, impressive jumps from low to high, a parlando a cappella, bare voice but prudently sparing recorded spoken passages and the rare words of the children that allow her a little bit of breathing in this long and often tense dramatic declamation. Roussenq's expressive qualities, his art of colors, his powerful dramatic meaning, serve text and music with heroic grandeur and remarkable nuances.
With Marion Liotard's equally powerful and nuanced piano, which leads the interpretation and leads the ensemble with rigorous attention and flexibility as a conductor, Ginoux treats each performer as a soloist with virtuoso parts for everyone, but on the soundboard of the strings, suddenly rustling and vibrating viola (Laurent Camatte) and vibrating of the cello (Adeline Lecce), the saxophone of Joel Versavaud, sighs, sometimes bleeding, becomes like the suffering echo of the voice of Medea or, suddenly, the confidential prolongation of his breath. The sounds recorded, mysterious timpani, rubbings, water flow, tiny children's voices, amplified, come from far, halo the set of stamps of a strange charm come from elsewhere.
Benito Pelegrin
instrumentation
1 soprano
1 saxophone (soprano and tenor)
1 viola
1 cello
1 piano
electronics
details
duration 75′
first performance 15 may 2013, Festival Les Musiques Gmem
Laurent Gaudé, author
Bénédicte Roussenq, soprano
Joël Versavaud, saxophones
Laurent Camatte, viola
Adeline Lecce, cello
Marion Liotard, piano
commissioned by Act'tempo and Beaumarchais-SACD
audio
Recording at the "la Grange studio Alys" during the musical residency with Bénédicte Roussenq (soprano), Joël Versavaud (saxophones), Laurent Camatte (viola), Adeline Lecce (cello), Marion Liotard (piano), Tracy Thine et Brune Girerd (children's voices)
video
Recording at the "la Grange studio Alys" during the musical residency
performance
next performance
20, 21 and 22 april 2018 Barcelona Modern Project Ensemble, Xavier Pagès-Corella conductor, Moreno Bernardi choreography, Josep Abril costumes, Txell Miras scenography // Hiroshima theater / Barcelona
Premiere
15 may 2013 to the ABD Gaston Defferre // Festival Les Musiques (gmem-cncm-marseille)
musical residency
from 29 october to 3rd november 2012 Chartreuse de Villeneuve-lez-Avignon and from  6 to 11 may 2013 to the Studio Alys